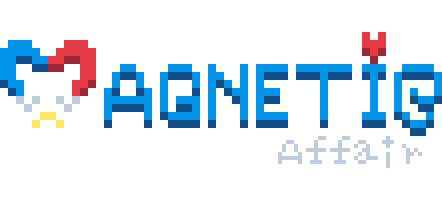 Magnetic Affair
A downloadable game for Windows, macOS, and Linux
We push and pull like a magnet do
- Shape of you, Ed Sheeran
Magnetic Affair is a short sliding puzzle game with narrative. The idea of this game is based on love triangle and magnetism push - pull interactions.
Stage Goal:
Get at least one of the characters to the maze entrance

Controls:
Player uses Arrow keys to move all characters in desired direction
Player cannot interact/control the characters until all of them are stopped
Without any other interaction, the characters will not stop unless they hit an obstacle
Keyboard Shortcuts:
Arrow Keys: Movement
Enter or Spacebar: Retry current stage
Left / Right Arrow Keys: Go to Previous / Next stage (Use on Finish screen)
Esc: Back to Home screen
Credits:
@tungkradle
Programming
Graphic assets
SFX

@netcell
Idea development
Narrative writing
Level design
And also check out his 3d version with Unreal engine here
@vunq90
Level design
Level testing
Thanks Abstraction (http://www.abstractionmusic.com/) for awesome free music!
Download
Click download now to get access to the following files:
Comments
Log in with your itch.io account to leave a comment.
I like this kind of game, but don't really get the logic to solve a level
Me too :)
Just kidding. I am the game designer of this game.
Basically the boys kick each other while the girl attracts them. The girl can attract only one boy at a time. However, a boy can kick the other out of this "relationship".
For most levels, you will be using one boy to kick the other to the gate, or to the position where that boy can go to the gate, or keeping the girl from attracting that boy :)
Have fun, thank you for playing our game :D
'we push and pull like a magnet do' wouldn't be correct. It would be 'does'. Also I think, 'we push and pull like magnets do' would be better or 'we push and pull like a magnet' or 'we push and pull like a magnet does'.
Note that it was a song quote, and as such grammatical correctness was likely less of a focus.